In summer, if the weather's good, we have milongas outdoors on Eton Bridge! It's a beautiful location; we dance in a magical romantic setting on the bridge over the Thames overlooked by Windsor Castle as the sun sets over the river. The Bridge is closed to traffic and has lovely views. They are memorable evenings and a unique tango experience!
August 4, 2018 @ 7:30 pm
-
10:30 pm

FREE BEGINNERS LESSON
19:00- 19:30
Are interested in trying out dancing Argentine Tango? Then join our introductory lesson for absolute beginners, starting at 7.00pm – come along and give it a try, for free!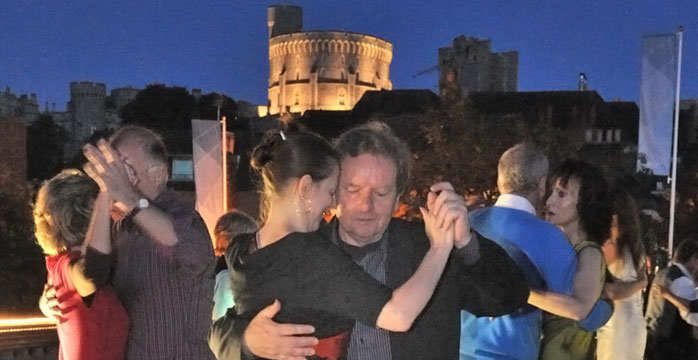 Venue
The Bridge is a very special place to dance, and it's a memorable experience! Eton and Windsor are great places to spend the evening; if you're thirsty or hungry we have counted over 50 places to eat & drink within a 10 minute walk of the Tango venue!
Music selection
We pay particular attention to the choice of music at our milongas. You can expect a rich variety of the very best traditional tango, milonga and vals. Because the Eton Bridge milongas are such a great showcase for Tango music and dancing we stick to the greatest 'Golden Age' music because it is the finest music for dancing. We hope that you will be enchanted by the music in an unforgettable and enjoyable evening.
Refreshments
The practicalities of running the al fresco events mean that we cannot offer refreshments, but there are lots of nice pubs and restaurants close by!
Personal possessions
There is a gazebo with space for you to leave a small bag, but it is not secure and we don't take any responsibility for any items left there. It's best to travel light. There are pubs close by if you need refreshment or a 'comfort' stop.
What about the weather?
The event is open-air, and so we depend on suitable weather. If the weather is not suitable then the milonga will be postponed. We will keep this page and the Facebook event updated.
Boring but important…
The dance surface is smooth street paving with a camber so please choose suitable shoes.  It helps to adapt your dancing to suit the surface, with less pivoting than you would use on a wooden dance floor.
The milongas are organised with kind permission from Windsor & Eton town management. The local bylaws prohibit the consumption of alcohol on Eton Bridge.
Directions to the Eton Bridge Milonga
Postcode approaching from Windsor: SL4 1PX
Postcode approaching from Eton: SL4 6AA
Exit M4 at junction 6 and take A355 South to Windsor. After 1 mile take 1st exit; turn left towards Windsor town centre. After ½ mile turn left at the roundabout (Goswell Road). This takes you under a railway bridge to the riverside. There is street-side parking in Barry Avenue on your left, and a public car park on your right before the road turns right away from the riverside. If you miss these then there is also parking by Windsor & Eton Riverside station. Eton Bridge is easy to see from the riverside, and 2 minutes walk from the car parks.
By Train:
Windsor has 2 stations, and both are a short easy walk from Eton Bridge.
By Boat:
If you are travelling on your luxury speedboat / canoe / royal barge then Windsor is 50 miles upstream from the Thames barrier, and 30 miles downstream from Reading. Listen for the Tango music upstream from Romney lock.